It is worthy to note that the provision of Section 438 of the Code of Criminal Procedure, 1973 (hereby referred as Cr.P.C. 1973) which provided for the granting of Anticipatory Bail (popularly known as 'BAIL BEFORE JAIL') had been brought under the Doctrine of Eclipse and was omitted at the time of National Emergency by the Uttar Pradesh Government.
On demand of various legal activists, recommendations of the State Law Commission (Report of 2009), opined in various court cases and recently Hon'ble Supreme Court of India (last year on the petition of Advocate Sanjeev Bhatnagar) called upon the U.P. Government to reconsider the matter for reviving & reinstating the provision of Anticipatory Bail which is causing practical difficulty in dispensation of justice.
Moreover, the deletion of this provision not just went against those anticipating arrest but also burdened the courts. In the case of Smt. Sudama & others vs. State of U.P. & others, the Allahabad High Court had suggested that if the provision on anticipatory bail were available in the State of Uttar Pradesh, the burden on the High Court and other courts would substantially reduce and would allow judges to deal with more pressing matters.[1]
IMAGE 1: Shri Yogi Adityanath, Uttar Pradesh Chief Minister.
Thus, a high level committee was set-up by the U.P. Government under the aegis of the State Home Department to consider the matter of reviving the provision of Section 438 of the Cr.P.C. 1973 after 33 years of its inoperation in the State. The Home Ministry making minor amendments to the parent Act provision of Anticipatory Bail brought the Code of Criminal Procedure (Uttar Pradesh Amendment) Bill, 2018 to revive Section 438 in Uttar Pradesh which was passed by the State Legislature and it received the President's assent on 01st June 2019 which immediately came into effect from 06th June 2019.
The press release by the U.P. Government for reinstating Section-438 of Cr.P.C. 1973: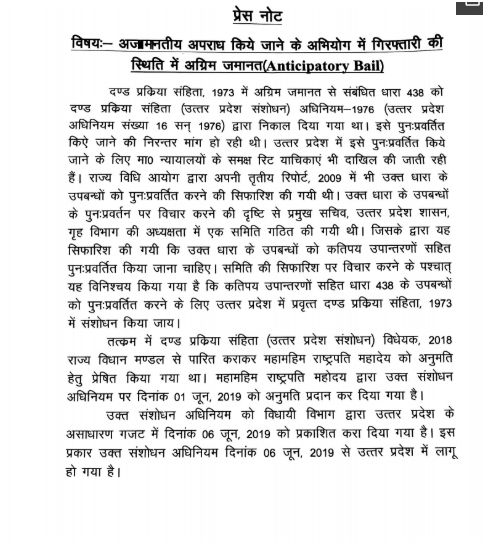 [1] Akanksha Jain, Omitted During Emergency, UP Reinserts Provision For Anticipatory Bail, LIVE LAW (June 14, 2019, 07:48 AM), https://www.livelaw.in/news-updates/omitted-during-emergency-up-reinserts-provision-for-anticipatory-bail-145602.