These kids make crackers to light up your Diwali!
http://headlinesindia.mapsofindia.com/burning-issues-news/child-labour/these-kids-make-crackers-to-light-up-your-diwali-66976.html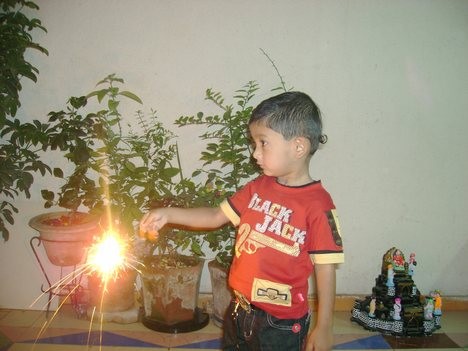 Chennai, Oct 31: As you prepare to light up a sparkler to celebrate Diwali next week, spare a thought for the around 40,000 children employed in the hazardous firecrackers industry in Sivakasi, Tamil Nadu, for whom the festival simply translates into more forced work.
Sivakasi, about 650 km south of Chennai, is India's fireworks capital. It employs over 100,000 people - mostly women and children. Child labour, therefore, is rampant in this place.
Take the example of 15-year-old Ponnusamy, one of the several children working in a firecracker manufacturing unit there. He dropped out of school in Class 6 and has been working for the past five years.
Asked why and how he got into this work, the shy Ponnusamy mumbled: "I do what my parents ask me."
Working for a factory in the Virudhunagar district of the state for the past one year, Ponnusamy has a back-breaking nine-hour schedule every day - filling tubes, cutting, drying, packing and other preparatory tasks.
His daily wage for the long hours is just Rs.60 - which is 40 percent of the minimum wage entitled for adults for the same work.
Similarly, Sekar, 16, dyes, counts, packs, loads and unloads finished products in his nine-hour workday. He too dropped out of school in Class 6.
The two kids come from very poor families, with both their parents employed in the same industry.
What is startling though is the loss of hope that comes across in the attitude of these children and their indifference towards health risks, and even death - apparently because of poverty.
Accidents in the firecrackers factories are fairly common. And even though the local employers' union claims there is no child labour, casualties in accidents tell a different story.
In July last year, an accident in a licensed unit, V.B.M. Fireworks, left three children dead. In August this year, eight revenue and police officials were killed while inspecting an unlicensed unit.
When asked about these incidents, Ponnuswamy told the media: "If I am lucky there will be no accidents in the factory."
And Sekar calmly added: "The dangerous work is done by the elder and more experienced men. I know there is a chance of a calamity, but then death is inevitable. Of course the chances are more palpable here."
According to Child Rights and You (CRY), one of the several NGOs trying to stop child labour in the firecrackers industry, there are about 550 licensed units and 500 unlicensed units. In addition, there are some 3,989 factories making matches.
John R of CRY said: "Despite the worldwide outcry, little has been done by the local government to stop child labour in Sivakasi. The outcry has just pushed the issue underground."
"Licensed units outsource production of firecrackers to unlicensed, home-based units, unmindful of safety regulations and even the Child Labour Prohibition Act," he added.
An official of Manitham, a grassroots NGO working on the issue in Sivakasi, said simply understanding the problem is not enough.
"We are raising awareness among parents that they should try and do with a little less money and concentrate on their children's education and health," he said.
So although they battle long hours of work, health hazards and a lost childhood every day, the only reason these child labourers look forward to Diwali is a chance to make an extra buck to help their families.
John R said: "We are now trying to deal with this issue by building a state-wide group of small NGOs and people who will act as watchdogs, negotiating with parents and local employers and creating community level vigilantes on child rights."
The fireworks and matchstick industry in and around Sivakasi is worth Rs.1,000 crore (around $225 million). (IANS)