A backup is the process of creating a safe copy of your important data which may include media, word documents, applications, etc, on a secondary location so that you can recover your files in case of sudden loss of data due to a shut-down, physical degradation of the device resulting into loss of files stored, virus damaging the files, catastrophe, digital theft, necessary boots in case of lock downs, etc. It is a part of disaster management plan of your office structure.
Backups have two distinct purposes.
The primary purpose is to recover data after its loss, due to any reason stated above. The secondary purpose of backups is to recover data from an old piles of data, which cannot be found when needed.
WHY DO YOU NEED A BACK UP?

One simple reason- you've invested a lot of time and effort in creating your data, so keep it safe.
The data saved in a digital device can get deleted or infected by a viral file as the physical device gets old and you don't want the hard work that you put staying awake and put, all night, to be flushed away just before your big day.
There are all the more reasons for such data to be saved by the legal practitioners, all the stakeholders and curious peeps out there.
Your database is not only valuable but is also confidential. All the information which is there on your website or on cloud is at risk?
Possible risks can be data theft, privacy breach, hack attack etc.

No matter what the size of your firm is or you are an individual practitioner. You have valuable and sensitive information which is at risk of getting leaked or hacked.
Law is a field that is all about presentation, documents, data and research that lead you to the objective that you long to achieve. Most of the files that a lawyer uses is 'Born Digital'.
In this era of digitalization, pretty much everything that lawyers do today is on their computers, from document creation, to document storage (including case files), matter management, scheduling, time tracking and billing, firm accounting, etc.
If a firm's data were to be wiped out, it would be really bad, therefore it's worth ensuring the data is safe and secured for any such unforeseen scenario.
The consequences of data loss of any law firm or a lawyer can range from a complete paralysis of its functioning or it can cost a firm a major client. It can endanger the firm's continuity, or can done a significant reputation damage to significant losses in the event of claims by third parties, as well as fines and penalties resulting from not applying due diligence to protect it.
Loss of data may not necessarily be a result of a huge catastrophe like a hurricane or a multi-day power outage or a complete loss of your office in order to be concerned about having backups in place. Even during day to day tasks - hard drives crash. Operating systems get corrupted. Power surges knock out computers. Viruses screw your files up.
Your clients, your colleagues, educational institutions, other students who are going to be associated with the legal field.
Also, backups are important when you have a date next morning at the court and the client is ready with the grease you worked so hard for. You don't even want to imagine the pain of losing the data associated to the case and your fees or even your job just because you were ignorant of backing up your data.
Extensive researches conducted by a lawyer may also be used by various people in internal and external referencing at different social media and informative platforms and forums.
Backups can also allow you to recover your data that you once uploaded on a website that is no longer functional or has been taken down. This process of restoration can come handy when you suddenly need the file you uploaded but the website no longer exists. You'd be thankful to the backup software on your computer more than ever.
Things to keep in mind in the process of backing up
Store your data in a trusted digital location which is popularly credible and highly rated.
Proper data optimization and selection of the data to be backed up.
Be sure to store enough explainatory data used presently so that it is understandable in the future.
Remember to refresh and upgrade your storage media to avoid loss of data and degradation over time.
Cloudberry Backup to the rescue :
There are many great tools that can help you to backup your files to cloud storage. But when it comes to cost-effective cross-platform cloud backup software that can work with all major cloud services, than CloudBerry Backup is all you need.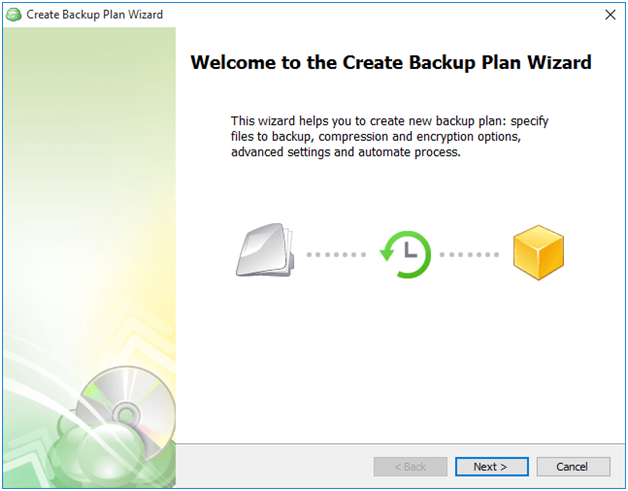 About:
CloudBerry Backup works on a unique model, where you install the software and keep on using any cloud service of your choice on pay as u go basis. Unlike many other solutions on the market, it supports just about any cloud storage provider on the market – Amazon S3, Amazon Glacier, Microsoft Azure, Google Cloud Storage, OpenStack, Rackspace and the list is never-ending.
Main Features :
Image-Based Backup
Block-level volume snapshots are taken and sent directly to the cloud, allowing dissimilar hardware or virtual machines restore.
Ransomware Protection
CloudBerry Backup detects encryption changes in files and prevents existing backups from being overwritten until an administrator confirms if there is an issue.
Scheduling and Real-Time Backup
Setup hourly, daily, weekly, monthly backups or specify your own schedule. Real-time backup allows to backup files and folders on Windows Server on change or creation.
256-bit AES Encryption
Encrypt backups with up to 256-bit strong keys on the source side. All data sent to the cloud is also encrypted using the SSL protocols to protect while it is in transit.
Compression
Reduce data overhead, decrease storage costs, aid bandwidth and accelerate backup completion with optional compression.
Block Level Backup
Backup only modified or new portions of files to add them to existing online data pool.
Multiple Cloud Storage Support
Choose one of the supported public cloud storage, including Amazon S3, Amazon Glacier, Windows Azure, Rackspace, OpenStack, Google Storage, SoftLayer, and others.
Command Line Interface
Get backup plan statistics programmatically and use the Command Line Interface to integrate backup with your own routines.
Network Locations Backup
Back up your network locations including network shares, NAS devices, mapped drives, etc.
Cloud to Cloud Backup
Backup data from one cloud storage location to another. Use multiple cloud storage destinations to keep your cloud data backups.
Cloud to Local Backup
Automate backup of the cloud data to local storage, external or network drive.
Email Notifications
Set up customizable email notification feature to track each run of your backup and restore plans remotely.
Retention Policies
Set up retention options to enable automated deletion of outdated data from your storage. Keep only actual versions of your backups.
Backup Consistency Check
Monitor your backup consistency in cloud storage.
Advanced options
One solution fits all OS:
Windows Server 2003/2008/2012/2016
Windows Server 2008/2012 R2
Windows 7/8/10
macOS 10.8 or newer
Ubuntu 12/14/16/17/18, Debian 7.11/8.10/9.3, Suse 11/12, Red Hat 6.x/7.x, Fedora 25/26/27, CentOS 6/7, Oracle Linux 6.x/7.x
Versions:
Desktop Backup for Windows/macOS/ Linux
Server Backup for Windows Server, Linux Server / CLI , MS SQL Server, MS Exchange, Ultimate
Pricing:
CloudBerry backup software is available in both Freeware and Pro versions.
Windows Desktop Cloud Backup basic is free
Windows Desktop Cloud Backup pro is for 49 USD
Windows Server Backup Software is for 119 USD
Almost all versions comes with comes with 15-day trial.
Conclusion
CloudBerry Backup is the best solution for file backup, and with support for endless cloud services, it's a great choice for both basic and advanced users alike. For starter the Free version doesn't come with drastic limitations, but if you want to reduce bandwidth usage, improve the backup speed and protect and encrypt your files. We have been using CloudBerry backup solutions for some time now and it has helped us in getting rid of the redundant backup method which we used before and saved a lot of recurring $$.
We wish you a Happy Backup !!
Visit: https://www.cloudberrylab.com/backup/windows.aspx