About the LIVE webinar :
LAWyersclubIndia and Beyond Law have gone beyond the mile to get to you one of the most seasoned and known professionals in the field of Civil Law - Senior Advocate and 4-time Advocate General for the Government of Karnataka - Mr. Udaya Holla.
This webinar is going to be an over 1-hour program, where Mr. Holla will be teaching us about Civil Plaints and Petitions.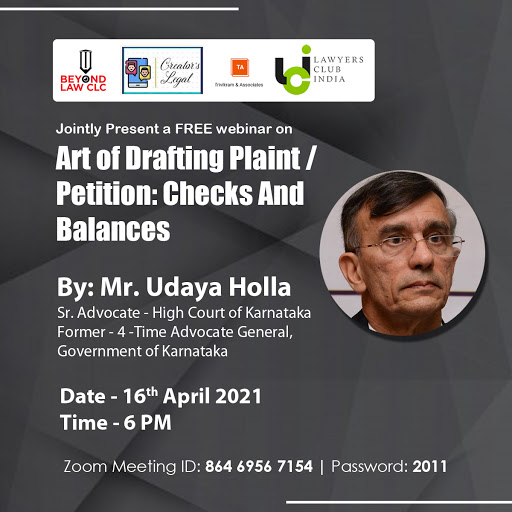 Some important points that we will be discussing are -
What is a Plaint/Petition
Important Legal Provisions
The Basic Rules of Drafting a Plaint/Petition
Necessary Contents of a Petition
Most Usual Mistakes that Lawyers Make
How Important is the Quality or Quantity
Presenting a Plaint to a Judge
The Actual Procedure that Follows
and much more!
Who Should Attend?
All the Law Students looking forward to practicing in the Civil Field. All the young lawyers who would want to enhance their knowledge on Petition and
Plaint drafting
Anyone interested in learning and Raising the BAR with LAwyersClubIndia!!