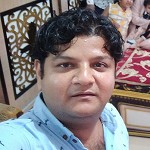 Zeeshan
(Querist) 27 August 2021 This query is : Resolved

As stated earlier.
A tenant did not pay rent for 1.5 year.
Didnot vacate the shop even after expiry of rent agreement.
Then stop opening shop.
Legal notice send to shop and home return back.
Then I publish of lost in newspapers.

Then i cut one of the shutter lock and put my lock on it.

After some days, tenant come and called the police at 100 number. When police came, the shop was closed.

Tenant arrange 2 witness who states that we see landlord cutting shop but didnot see him taking any goods.

Now my question is,
1. What police do in this sceneratio ?
2. Can police file FIR under "decati" IPC ?
3. What I have to do now ? Police is harassing me.