Bhartiya Janta Party's Senior Leader and elected Member of Parliament from Patna Sahib Lok Sabha Constituency in General Elections of 2019 by defeating the famous veteran actor Shatrugan Sinha, Shri Ravi Shankar Prasad continued to hold the office as Law Minister in the Ministry of Law & Justice in the Modi Cabinet 2.0, also.
Shri Prasad is an Indian lawyer by profession and has also been designated as Senior Advocate by Hon'ble Supreme Court of India. He was also privileged to hold the post of Law MInister in the Atal Bihari Vajpayee's NDA Government and in NDA 2.0 his role became bigger, as he has also been graced with the important portfolios of IT and Broadcasting adding to the MInistry of Law and Justice.
After the allotment of such high ended portfolios by the Hon'ble Prime Minister of India, Shri Prasad quotes "I am grateful to the PM for entrusting me with such responsibility. In telecom, I will first hold meetings to take a long-term view, and also see how a greater synergy can be driven in IT and communications,"
Mr. Ravi Shankar Prasad assumed the charge of Ministry of Law & Justice on 3rd June 2019 and thumped his responsibility towards the development of Bharat by stating to the reporters that, "As Law Minister, I will not be a post office. The Law Minister and the Law Ministry have a role as a stakeholder, obviously giving due regard and respect to the collegium system". This statement has opened various tracts to find the solution between the age old tussle between Government & Judiciary in the area of appointment & transfer of the judges of Constitutional Courts in India.
Moreover, Shri Prasad also refrained from answering to the foundational promises posed by manifesto of BJP in relation to Constitutional provisions providing special privilege by way of Article 35A and 370 of the Indian Constitution, Ram Janmabhoomi Dispute and Triple Talaq Bill, which will be of greater concern to witness in the coming future, how the present Government will tackle them.
Waiting for the times to come and wishing for the prosperous growth of our Country, we hereby congratulate the Law Minister and his staff, as well as Senior Officials/Officers for assuming the charge of Ministry of Law & Justice and we eagerly wait for the decisions which could take our Justice Delivery System on the path of reducing pendency, technology-oriented working and ease of getting Justice!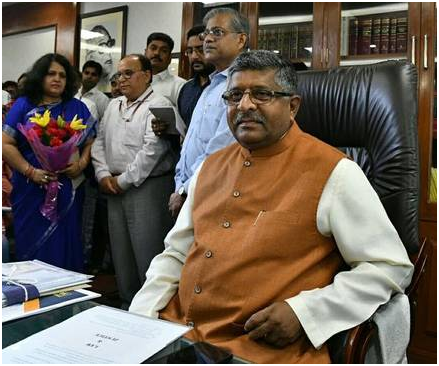 Shri Ravi Shankar Prasad took charge as the Law Minister in the Modi Government 2.0 on 3rd June 2019. ​